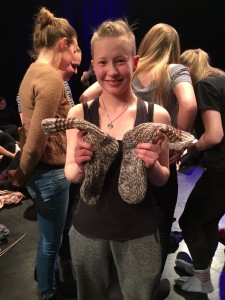 After the National Presentations on Monday the Fab Five had a surprise for the Dutch students. They started laying pairs and pairs of woolen socks on the drama hall floor. That's when everyone became very interested in what was going on.
Our Fab Five members and ex-yetians Emmi Kyllönen and Eveliina Karjalainen have been knitting feverishly for months. Emmi says she started knitting the "YET-socks" in September, but has also been knitting other things at the same time. She knitted a stunning amount of 27 pairs of woolen socks, while Eveliina helped her out by knitting four pairs. Emmi has been knitting all the time during the semester, even in lessons. She says that the teachers like the fact that she knits in class; that way she actually focuses on the subject of the lesson – even if one might think the contrary.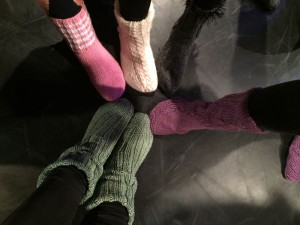 The idea came from last year's coordinator and OSYK's Swedish teacher Leena Kiuru. The goal was to make the Dutchies feel at home in OSYK, where everyone wears woolen socks all the time. And of course they also wanted to make sure the Dutchies stay warm in the Finnish winter weather!
text: Venla Aitta
photos: Minna Korpierkki