We, the Finns, woke up around 3 and 4. We all headed for the Oulu Airport. First, we flew to Helsinki. Most of us were very tired, and some of us got some more sleep on the plane. After half an hour at the Helsinki-Vantaa Airport, it was time to take our next plane and fly to Amsterdam. The weather was nice and sunny above the clouds, so the views were very beautiful.
When we arrived in the Netherlands, there were teachers of Teylingen College waiting for us at the airport. We were quite hungry, so on our short break before the bus ride some of us got some food, for example chips and chicken nuggets. Then we took the bus to Noordwijkerhout. The Dutch students were waiting for us at the school. They were waving, shouting and carrying a sheet that said "welcome" in Finnish and had our names written on it.
Then we finally met our host families. We took some pictures inside and then we all went somewhere with our hosts. Some of us visited Leiden or saw some sights or just spent time with their host families. The day was tiring, exciting and wonderful.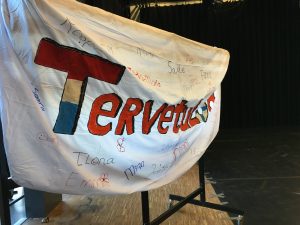 More pictures will follow.
Ninni & Veera