We assembled at 9:30. We gathered in the school's forum. Here we got separated  into three groups of 16. All groups were shown around at Leeuwenhorst guided by one of the Fabulous Five. The Fabulous Five are a group of five old yet participants who organize different activities. After the tour the three groups of 16 got separated into six groups of eight. In these groups we got the instructions for a bike tour. In this tour we would see the "must see" locations of Noordwijkerhout and take a picture of them with the group in a certain pose given by the Fab Five. These weren't difficult tasks, they weren't meant to be, but they were a lot fun to do.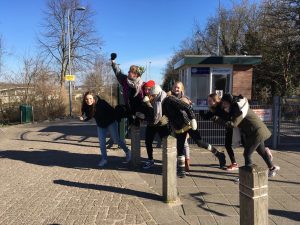 After the bike tour, we went to pancake house Langs Bergen en Dal in Noordwijkerhout. We ate some pancakes for lunch. This was a good moment to socialize and talk about our experiences. At around 13:00 we went back to school to officially start the YET project. We got a short introduction from Leeuwenhorst's vice principal Dhr. Van Leeuwen.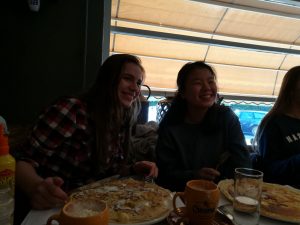 It's very windy here in Noordwijkerhout so almost all of the students were freezing. But the weather was still sunny and pretty, and we had good time.
After the introduction we got separated into our teams, the Dutch and the Finnish acting and art teams. Both of these teams are mixed with Dutch and Finnish students. The Finnish team started with an introduction round. All the members introduced themselves, told if they were acting or part of the art factory and what they did yesterday. After that they did team building exercises. Meanwhile the Dutch team played games to learn each other's names. After that they did a brainstorming session.
In the evening we spent time with our host families and had a party at one of the Dutch student's house.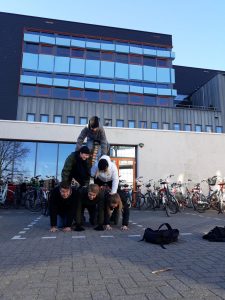 Mees, Ninni, Veera,