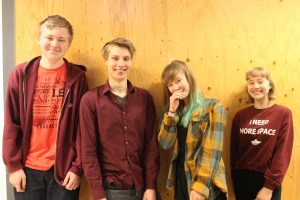 Who?
From left to right: Joost (3rd year in YET), Mees (2nd), Ninni (1st), Veera (1st), from media team
What has been the best thing about YET this far?
Mees: "I like both the excursions and the parties. Also getting Roope here from Finland was pretty cool."
Joost: "That all the Finnish people are so nice."
Ninni: "All the wonderful people and getting know them."
Veera: "Getting to spend time with all the amazing people. And our day in Amsterdam!"
What has been memorable situation during these two weeks? 
Mees: That Roope did not come until the second week."
Joost: "The first time we watched the plays."
Ninni: "The moment after the general rehearsals."
Veera: "When we first arrived here and it was sunny and so warm compared to Finland."
What do you think about your team?
Mees: "A lot of fun. I wouldn't like to be anywhere else."
Joost: "Amazing."
Ninni: "We have had much fun together in our tiny media box."
Veera: "It has been great to work together!"
Describe YET by one word.
Mees: "Excitement"
Joost: "Nineteen"
Ninni: "Emotional"
Veera: "Memorable"