Today we went on a field trip. The bus left at 8:30 in t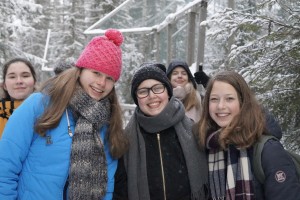 he morning. We drove for 2 hours towards the Ranua Wildlife Park.
The Ranua Wildlife Park is a park which is kind of a zoo. You follow a 2.5 kilometer road which takes you across owls, hawks, wolves, moose, polar bears and other animals that live in snowy areas. After we all finished the walk we gathered at the restaurant for lunch. The Fazer shop was very popular. Everyone spent huge amounts of money on typical Finnish chocolate.
 We went back to the bus around 13:20 and left at 13:30. It was a 90 minutes drive to our next destination: the Kemi Snowcastle. The first Snowcastle was built in 1996 as a present to all the children in the world. In 2017 the theme of  the Kemi Snowcastle is about celebrating the 100 years of independency of Finland.
After we left the castle we all had pizza at Restaurant Göreme in Oulu, which is becoming a YET-tradition. It was a very tiring day but one by one we all made our way home.     
Text: Sam van der Plas
Pictures: Arsi Paananen