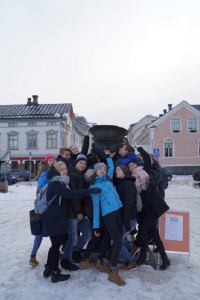 In the morning we arrived at school at 10 o'clock. The day started with some singing around the piano while we were waiting for our teachers. When they arrived, the school principal Riitta-Mari Punkki-Heikkinen, shortly Tiitti, welcomed us all and introduced us to the teachers. When we all knew each other the assistants that were participating last year gave us a tour around the school and after that we started with a sight-seeing tour.
When we finished and had done all the exercises we went back to school to have a nice lunch of lasagna with some salad and rye bread. After this nice meal we got free time for around half an hour.
The group split up in a Dutch and a Finnish team which includes students from both countries. Also the media team participated in the warming up. The Dutch team started with a game where you had to slap the person whose name was being called to make sure everybody knows each other quite well. In the Finnish team they played a game where someone has to drop an item, a plushie, behind someone and run around a circle. The person who got the plushie behind them had to run the other way around to try and be first at the free spot.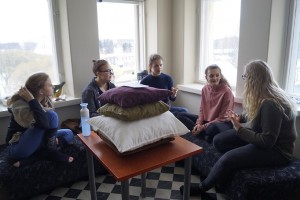 When both teams were warmed up, the media team left the groups to work for themselves. The groups started with discussing the play and talking about the whole story and what they think of it. Also they did some group work to know more about the play. In the evening everyone gathered around at Eve's place for a welcome party.
Text: Joost Barnhoorn
Pictures: Arsi Paananen and Satu Käkelä