Day three (21.2) was a normal rehearsal day. The day started with a DMPC, and after that the rehearsals started. Both teams already have a view of the themes and elements of the plays and will now start to develop them. For example, the Dutch team has been talking about Sampo from Kalevala, what it is, what it does, and what it could be. They have also been talking about the setting of the story and consulting the art factory about it as well.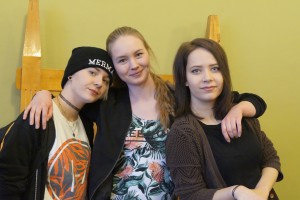 The Finnish art factory is working on the YET-poster that is made every year. The Finnish acting team has started to develop their scenes in small groups.
The Dutch students are slowly getting used to the fact that they get their lunch for free from the school! Tomorrow they will have an interesting lunch, as they will be tasting Oulu's traditional food rössypottu.
As an activity for the day, the Fab Five had arranged a game of hide and seek at the school. After the game, the students left to go sledging at a hill near the school. It was a new experience for the Dutchies, and some of them slid down the hill as many times as they possibly could. The Finns enjoyed it as well, because many of them hadn't gone sledging in years.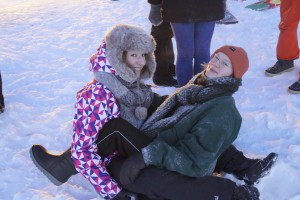 After the sledging, some of the students were so tired and cold that they just went straight home. Many of them went to sauna to warm up their frozen feet and fingers. Some gathered at Sara's place to eat and socialize, but everyone was home at 10pm at the latest.
Text: Venla Aitta
Pictures: Arsi Paananen