Today is the last day before the performances, the dreaded General Rehearsals. The Finnish team is first with the Technical Rehearsals starting at 8:30, and the Dutch team had their final rehearsal.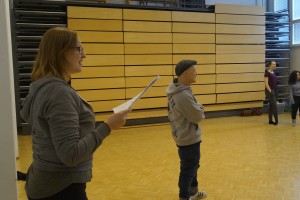 In the morning the Finnish team started
out well. After a week of hard work the Finnish team is ready for the performances tomorrow. There is a bittersweet feeling today, people are excited to perform tomorrow but a lot of people also know that the project is coming to an end. In the afternoon the roles switched, the Dutch team was in the drama hall for the Technical Rehearsals, most of the actors saw the work of the art factory for the first time today. After some stressful days it appeared that the Dutch team was finally ready for the performances. Today we had dinner at school before the General Rehearsals in the evening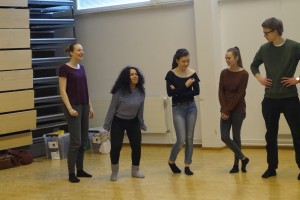 The General Rehearsals went very smooth on both sides and the night ended very emotionally because everyone realised that the project was ending, after 30 minutes of crying and emotional reflection everyone went home with heavy hearts.
Text: Sam van de Plas
Pictures: Arsi Paananen