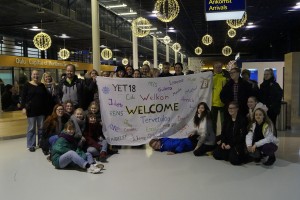 Youth, Europe and Theatre is a theatre and language project in which pupils and teachers from different countries work together to produce two plays. The project's goal is to improve students' fluency in expressing themselves both linguistically and through movement.
This year the participants are from the Teylingen College Leeuwenhorst from the Netherlands and Oulun Suomalaisen Yhteiskoulun lukio from Finland. The project is held in Oulu. For two weeks, the Dutch guests will be hosted by the Finns.
There are two teams, of which both produce a play of their own. The Dutch and Finnish pupils are blended into the groups. By jointly producing a stage play pupils have the possibility to communicate through speech, gesture, movement and music. This makes it easier to break through the ice and the language barrier.
The plays are based on a literature piece picked out by the host-country. This way the project will also familiarize the pupils with the other country's literature and art. This year the plays will be based on the Finnish story Memory of Water. Making the plays and living and experiencing things tightly together for two weeks all create a strong bond between the participants. It also helps to gain an insight into other people's cultures and heritage and creates a more open, less prejudiced attitude towards other cultures and strengthens the sense of European citizenship.
The Dutch and Finnish teams are further divided into acting teams, art factories, who will produce the set, and the media team. This year, the Finnish acting team is directed by teachers Hanna Hautala and Elina Tähtelä, who will also work as the choreographer. The Finnish team's art factory is led by Niina Uusitupa. The Dutch team is directed by teachers Hans Hollander and Pauline van Eeden. The art factory is led by Annelies Bakker. The media team consists of two Dutch and two Finnish students, who will report and photograph the different events happening during YET. They get help from Geert Groenewegen and Minna Korpierkki. Coordinators Jasper Out and Mervi Hälinen are responsible about the practical side of the project. They will be helped by five assistants who are ex-yetians, also known as the "Fab Five".
The project has often been funded by Comenius, an organization that supports the co-operation of European schools. YET has also won several prizes: The 2nd prize in the National Education Award (Netherlands 1998) and twice the European Label Award (Italy 2007, Finland 2008).
Follow us      yet.nu (Webpage)
@youtheuropetheatre (Instagram)
YET (Facebook)
YET18 (Youtube)